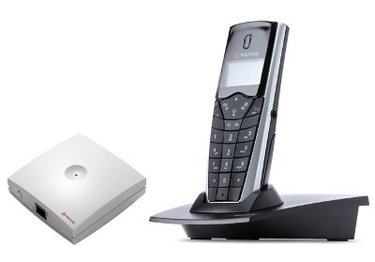 The Polycom Kirk 300 Wireless server supports a wide range of SIP protocols. It offers a single web portal on the KWS300 for administration and maintenance of the entire DECT infrastructure including provisioning, maintenance, and supervision of all KIRK handsets controlled by the solution.The KIRK KWS 300 Base Unit is deployed as a single-cell DECT solution that is installed directly on your Ethernet LAN and is managed as part of your company network. Up to 5 base units can be deployed in the same 100-foot radius work area.
Max number of simultaneous SIP Calls = 4
Max number of KIRK Repeaters = 6
Max number of KIRK registered handsets = 12
Supported codecs = G.711a law, G.711ulaw
10/100 Ethernet port
Manual or DHCP network setup
Time and date synch using NTP
Event Logging
LED status indication
Flexibility
Virtual Office Softphone gives you the freedomto take your officewith you, wherever you may go, increasing your business productivity and efficiency. With the same features as a standard desk phone you no longer need to be tied to the office to conduct business.
Feature-rich
Virtual Office Softphone includes traditional calling features such as advanced call forwarding, call transfer, call waiting and3-way calling a swell as integration with your Outlook and Google contacts and social networking services, allowing you to keep pace with today's business communication trends.
Easy access and secure login
You can access yourVirtualOffice Softphone from any web browser with a unique and secure username and password so you and your employees can be up and running with all your important business communications
Specifications:
3-way calling
Multiple call appearance lines
Blind,warmand voicemailtransfers
CallerID
Callwaiting
DoNotDisturb (DND)
Voicemail
Callforwarding
Corporate directory
Caller and calling line information
Call log
Call hold/resume
One-click calling